C1 Hochschule telc Exam Preparation
To help you pass at the first attempt, we offer special C1 Hochschule telc Exam Preparation courses to prepare you. These German courses usually start 5 weeks before the exam date. You will be specifically prepared for the different parts of the exam, take a practice test and we will give you lots of tips. Telc has developed excellent special materials for preparation, which we use alongside our own training sheets.
This way you will be well prepared!
C1 Hochschule telc Exam Preparation
At a Glance: Group Lessons
small group
2 – 6 participants**
time
usually
18.30-21.00
duration
5 weeks (5 x 3 UE*)
price
250,-
location
Munich or online
additional services
practice material included
*UE = teaching unit (45 min)
At a Glance: Private Lessons
| | |
| --- | --- |
| one-to-one training | individual learning |
| time | flexible |
| duration | 8 UE* |
| price | 340,- |
| location | Munich or online |
| additional services | practice material included |
*UE = teaching unit (45 min)
**If only 1 participant registers, the training will still take place and be converted into 7 individual training units.
We'll get you fit for telc!
The structure of the C1 examination
Written Examination
3 hours, 40 minutes
Reading Comprehension
Language Elements
(vocabulary and grammar)
90 minutes
break
20 minutes
Listening Comprehension
40  minutes
Writing
70  minutes
20 minutes preparation
Oral Examination

16 or 24  minutes
Alinguas-Tip:
You didn't pass one of the parts? Don't worry. You only need to repeat one of the two parts. As often as you like, by the way.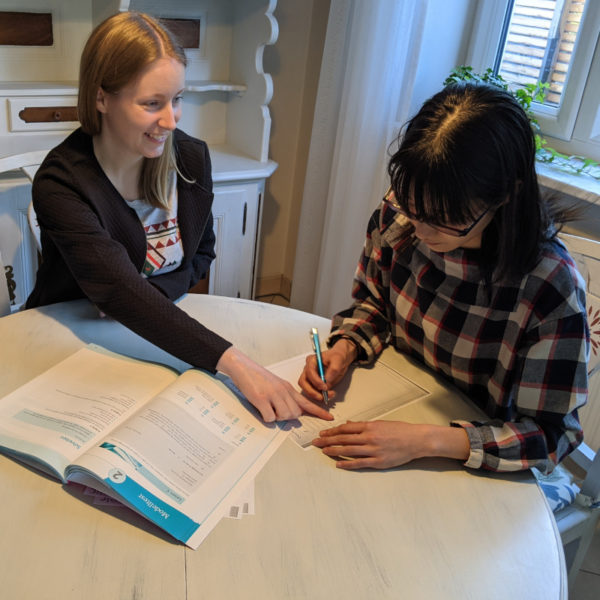 Tips for the C1 Hochschule telc Exam Preparation:
Listen to podcasts or programmes on the radio regularly before the exam.
Also watch or listen to discussion panels on various topics.
Try to speak German every day, then you won't be so nervous in the exam!
Memorise phrases for the written and oral part and practise using them as often as possible beforehand!
Read a lot of texts in German on different topics. For example, reread all the texts in your C1 book and learn important words on the different topics.
Regularly read scientific texts in magazines or online.
Alinguas Sprachschule München
Deutschkurse Sommer Sprachkurse Deutsch Telc Sprachschule Jugendliche Englisch
hat

4,93

von

5

Sternen
85

Bewertungen auf ProvenExpert.com