FSP Preparation | Medical German Exam Preparation
FSP Preparation for doctors in Munich: Anyone who wants to work as a doctor in Germany and who has completed medical studies abroad must demonstrate specialist language skills at language level C1 (CEFR) by taking the medical specialist language examination (FSP).
Our experienced lecturers will prepare you for this.
A new Medical German / FSP preparation course starts every month.
A new Medical German / FSP preparation course starts on the 19th of April
always on Tuesdays 14:15- 16:45
and Thursdays 14:00-16:30
face-to-face at Hohenzollernplatz
30 units (à 45 Minuten) – 680,- €
At a Glance: FSP Preparation in a group
Time & Duration
2 x 3 units* / week
(30 units in total)
Location
Munich or online
Levels
B2
Group
Small groups
Price
680,-€
*teaching unit (45 Min.)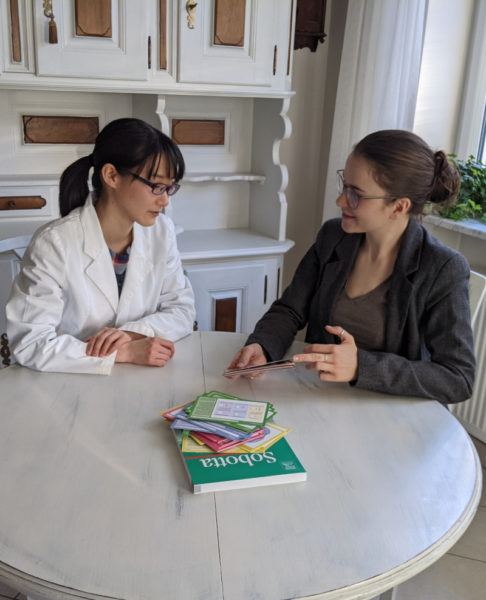 The FSP preparation course effectively prepares you for the medical language exam. Using exam samples, you will practise anamnesis interviews, written documentation (doctor's letter) and patient presentation. You will expand your medical vocabulary in German and also learn general words that you will need in the examination in the anamnesis conversation and, of course, later in conversation with patients. Our lecturers have a lot of experience in preparing you effectively for the medical FSP. Here you will have plenty of time and opportunity to practise so that you are well prepared for the professional language exam!
Prices FSP Preparation in Private Classes
One-to-one
(per UE)
Two participants
(per Person & UE)
1 – 19 UE*
49,-
28,-
up from 20 UE
46,-
26,-
up from 30 UE
44,-
24,-
*teaching unit (45 Min.)
For small groups we will be happy to create an individual offer. Please contact us!
Information on the examination
The aim of the examination is to test whether written and professional language skills are mastered in order to cope with communication in the everyday life of doctors.
Structure of the FSP:
Medical history interview (20 minutes)
In the first part of the examination, a conversation between you (as a doctor) and a patient is simulated. Here you have to ask specific questions in order to find out the causes of the complaints. You also have to explain the further examination steps and methods to the patient. During this part of the examination you should also take notes which will help you with the further tasks.
Documentation (doctor's letter) (20 minutes)
In the second part you are to summarise your notes from part 1 in the form of a short report. It is important to use medical terminology and not colloquial speech.
Patient presentation (20 minutes)
In the third part, a conversation between you and a doctor is simulated and you introduce the patient. You may also use the notes from Part 1 here. You should be able to answer the other person's questions fluently, clearly and with proper grammar.
To pass, you must achieve at least 60% in each part of the examination.
You can find more information about the FSP exam in Bavaria here: 
Additional information
We comprehensively prepare you for the medical language exam Medicine C1 medical professions and the licence to practise medicine at the Bavarian Medical Association. In this German course you will practise specialist communication with patients and colleagues, e.g. anamnesis discussions and writing doctors' letters. This course is suitable for you if you intend to work in Germany or are already doing so.
Our language teachers have both specialist medical knowledge and extensive experience in the field of German as a foreign language.
Contents of the exam preparation
Medical terminology
Work processes in everyday medical life
Medical history
Medical letters
Information sheets before medical interventions
Phrases in dealing with patients
Professional conversations in dealing with colleagues
Structure and contents of the examination as well as the examination situations
In Combination with
C1 evening course – here you can go through the whole C1 level (or just part of it), because although the official requirement for the exam is the B2 language level, the exam must be taken at the C1 language level. The chances of passing the FSP increase significantly with a successfully completed C1 course.
Conversation and pronunciation one-to-one – here you can work on your pronunciation and fluency in intensive individual training so that you can go into the exam with confidence and also be well prepared for future conversations in everyday medical life.
Alinguas Sprachschule München
Deutschkurse Sommer Sprachkurse Deutsch Telc Sprachschule Jugendliche Englisch
Anonym
hat

4,87

von

5

Sternen
92

Bewertungen auf ProvenExpert.com