FSP Preparation | Medical German Exam Preparation
FSP Preparation for doctors in Munich: Anyone who wants to work as a doctor in Germany and who has completed medical studies abroad must demonstrate specialist language skills at language level C1 (CEFR) by taking the medical specialist language examination (FSP).
Our experienced lecturers will prepare you for this.
You need a visa? Why not combine the FSP preparation with a C1 intensive course! This gives you the opportunity to practice your German intensively and you are prepared in the best possible way!
A new Medical FSP preparation course starts on the 8th of November 2023
15 dates
Mondays 16:00-17:30 and
Wednesdays 16:30-18:00
face-to-face at Hohenzollernplatz 5
max. 5 participants
30 units (à 45 minutes) – 960,- €
At a Glance: FSP Preparation in a group
Time & Duration
2 x 3 units* / week
(30 units in total)
Location
Munich or online
requirement
B2
Group
Small groups
max. 5 participants
Price
960,-€
*teaching unit (45 Min.)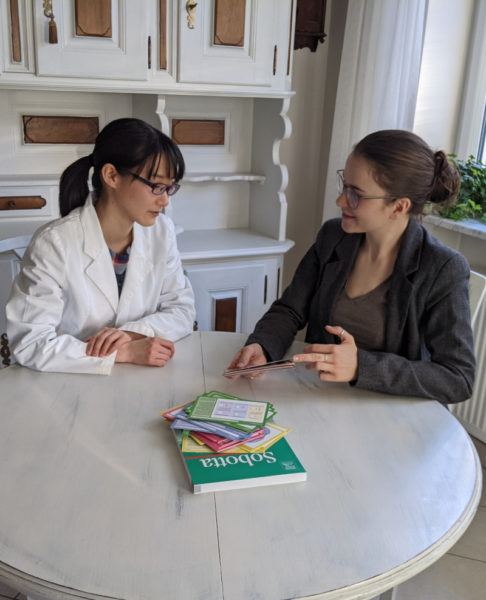 The FSP preparation course effectively prepares you for the medical language exam. Using exam examples, you will practice anamnesis interviews, doctor's letters and patient presentations. You will expand your medical vocabulary in German and also learn general language words that you will need in the examination in anamnesis conversations and, of course, later in conversations with patients. We place a great deal of emphasis on helping you gain confidence in speaking in everyday medical situations! Our lecturers have a lot of experience in preparing you effectively for the medical FSP. In this course you will have plenty of time and opportunity to practice, so that you will be well prepared and confident for going into the medical language exam!
Prices FSP Preparation in Private Classes
One-to-one
(per UE)
Two participants
(per Person & UE)
1 – 19 UE*
53,-
30,-
up from 20 UE
50,-
28,-
up from 30 UE
48,-
26,-
*teaching unit (45 Min.)
For small groups we will be happy to create an individual offer. Please contact us!
Information on the examination
The aim of the examination is to test whether written and professional language skills are mastered in order to cope with communication in the everyday life of doctors.
The exam consists of 3 major parts (medical history interview, doctor's letter and patient presentation) and at the end the technical vocabulary is tested in a fourth part.
Structure of the FSP:
Medical history interview (20 minutes)
In the first part, the heart of the exam, a conversation between you (as a doctor) and a patient is simulated. Here you have to ask specific questions in order to find out the causes of the complaints. The anamnesis is therefore practiced in the course on all relevant specialties including: Cardiology, Pneumology, Hematology, Dermatology …
In addition, you must explain the further examination steps and methods to the patient. The explanations of the examinations will be discussed in class and presented in small presentations by the students. During the doctor-patient conversation, you should take notes that will help you with the further tasks.
Documentation (doctor's letter) (20 minutes)
In the second part, you are to summarize your notes from Part 1 in the form of a short report. Here it is important to use medical terminology and not slang. The teacher will give helpful tips on special grammar as well as sentence structures used in doctor's letters. You will improve your written language through a lot of writing exercises.
Patient presentation (20 minutes)
In the third part, a conversation between you and another doctor is simulated and you introduce the patient. You may also use the notes from part 1 here. You should be able to answer the examiner's questions fluently, understandably and grammatically correctly.
Technical vocabulary
Depending on the federal state and the examiner, technical vocabulary is tested in oral or written form at the end of the 3rd part. In our course we practice again and again in short sequences to translate these words correctly into German. e.g. Thyreoditis – thyroiditis
To pass, you must achieve at least 60% in each part of the examination.
You can find more information about the FSP exam in Bavaria here: 
Course structure
The course is designed so that you prepare for a new subject area before each new lesson. On the following day of the course, you will then be given one or more cases related to that area. A good structure is important for preparation and confidence in the exam.
We generally work individually and address the needs of each student. This works best in individual training or in small groups, which is why we work in groups with a maximum of 5 participants.
In addition to free materials, we use a book in which you will find all the important information on parts 1 to 4 as well as many technical terms, example cases, examinations and a summary of the most important pathologies. The book is perfect for preparing and following up the lessons and costs approx. 40,-€.
This course is suitable for you if you intend to work in Germany or already do so.
Our language teachers have both specialist medical knowledge and extensive experience in the field of German as a foreign language.
Contents of the exam preparation
Medical terminology
Work processes in everyday medical life
Anamnesis of many specialties
Medical letters
Information sheets before medical interventions
Phrases in dealing with patients
Professional conversations in dealing with colleagues
Structure and contents of the examination as well as the examination situations
Additional information
We comprehensively prepare you for the medical language exam Medicine C1 medical professions and the licence to practise medicine at the Bavarian Medical Association. In this German course you will practise specialist communication with patients and colleagues, e.g. anamnesis discussions and writing doctors' letters. This course is suitable for you if you intend to work in Germany or are already doing so.
In Combination with
German C1 Intensive Course – You need a visa? In this case it is necessary to book an intensive course. You can combine the FSP preparation in the afternoon with an intensive course in the morning, so that you can complete the required 20 course hours per week and get a visa.
C1 evening course – here you can go through the whole C1 level (or just part of it), because although the official requirement for the exam is the B2 language level, the exam must be taken at the C1 language level. The chances of passing the FSP increase significantly with a successfully completed C1 course.
Conversation and pronunciation one-to-one – here you can work on your pronunciation and fluency in intensive individual training so that you can go into the exam with confidence and also be well prepared for future conversations in everyday medical life.
Alinguas Sprachschule München
hat

4,81

von

5

Sternen
102

Bewertungen auf ProvenExpert.com