telc C1 Hochschule German Exam Munich
With a passed telc C1 Hochschule German Exam, you can study at ALL German universities and work in academic professions. Students no longer need to provide any further proof of German language skills.
You can prepare for the telc Deutsch C1 Hochschule certificate at Alinguas, as well as take the exam. As a recognised telc University Competence Centre, we offer the telc C1 Hochschule German Exam in Munich at Alinguas almost every month under licence from telc GmbH.
At a Glance: telc C1 Hochschule German Exam Munich
Written Examination
3 hours, 40 minutes
Reading Comprehension
Language Elements
(vocabulary and grammar)
90 minutes
break
20 minutes
Listening Comprehension
40  minutes
Writing
70  minutes
20 minutes preparation
Oral Examination

16 or 24  minutes
Alinguas-Tip:
You didn't pass one of the parts? Don't worry. You only need to repeat one of the two parts. As often as you like, by the way.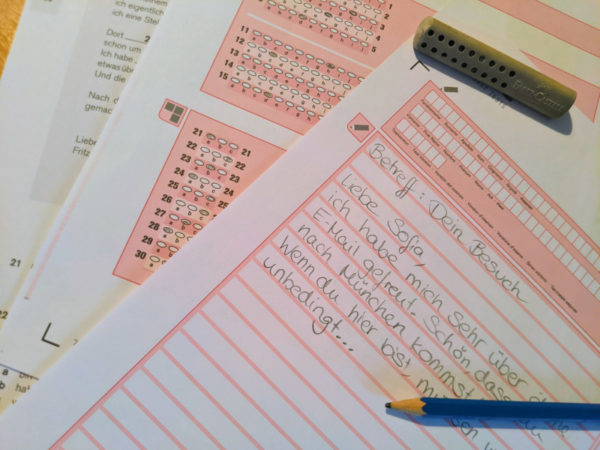 Telc C1 Deutsch Hochschule tests German language skills at an advanced level, which are important for university studies. The telc Certificate C1 Hochschule proves that you are linguistically fit to study at university.
If you fall ill on the day of the exam, please email us the medical certificate on the day of the exam. We will then only charge a cancellation fee of € 80.00 and will refund the remaining fee or credit it for you, for the next desired exam date.
Alinguas Sprachschule München
Deutschkurse Sommer Sprachkurse Deutsch Telc Sprachschule Jugendliche Englisch
hat

4,93

von

5

Sternen
85

Bewertungen auf ProvenExpert.com