Pharmaceutical FSP Preparation | Pharmaceutical German Exam Preparation
Pharmaceutical FSP Preparation – Anyone who wants to work as a pharmacist in Germany and has completed their studies abroad must demonstrate specialist language skills at language level C1 (CEFR) by taking the Pharmacist Specialist Language Examination (FSP).
Our experienced lecturers will prepare you for this.
It is an advantage to attend a B2/C1 course beforehand! This way you can fully concentrate on the special language requirements in the FSP preparation course.
At a Glance: FSP Preparation
Time & Duration
individually
Location
Munich or online
Levels
B2 (C1 beneficial)
Group
one-to-one / Minigroup
Price
up from 44,- / UE*
or by arrangement
*teaching unit (45 Min.)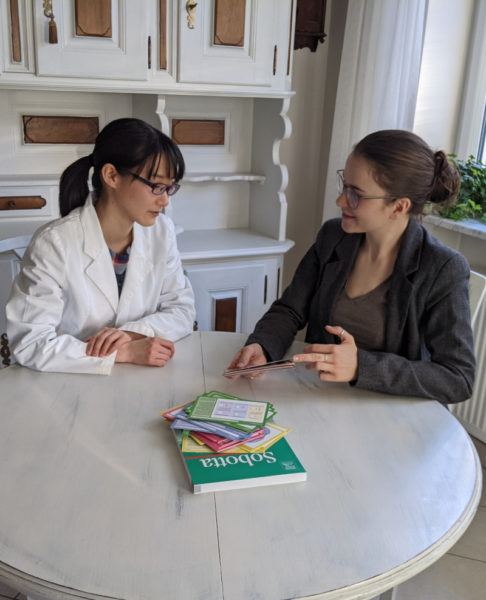 Prices FSP Preparation
One-to-one
(per UE)
Two participants
(per Person & UE)
1 – 19 UE*
49,-
28,-
up from 20 UE
46,-
26,-
up from 30 UE
44,-
24,-
*teaching unit (45 Min.)
For small groups we will be happy to create an individual offer. Please contact us!
Information on the examination
The aim of the examination is to test whether written and professional language skills are mastered in order to cope with communication in the everyday life of pharmacists.
Structure of the FSP:
1. pharmacist-patient interview (20 minutes)
In the first part of the examination, a conversation between you (as a pharmacist) and a patient is simulated. Here you have to give specific advice and information in the context of handing over medicines: about a medicine, its problems, risks and the proper use, storage and disposal.
You also have to explain possible side effects or interactions.
It is important to speak in layman's terms so that the patient can understand you well.
At the end of this part of the examination, you will give a presentation of about 5 minutes, including a statement on a topic related to your profession, which you will be given in the examination.
2. written part of the examination (20 minutes)
In the second part, you are to complete the report form of the Drug Commission of German Pharmacists (AMK) "Report on adverse drug reactions" or a similar document. The basis for this is the interview in part 1.
In addition, you must write a short, formal e-mail, which is usual in the context of everyday pharmacy work. Pay attention to the text structure with salutation, introduction, order of content points and conclusion. The topic is, for example, problems with the software in the pharmacy, or delivery problems with medicines.
3. pharmacist-pharmacist conversation (20 minutes)
In the third part, a conversation between you and another pharmacist is simulated and you introduce the patient and provide information about the adverse effects of the medicine that have occurred.
You should be able to answer the other person's questions fluently, understandably and grammatically correctly.
At the end of the third part, you still have to translate pharmaceutical terms into layman's terms in writing. An example of the translation is that "rhinitis" is translated as "cold".
We have found further useful information on the pharmacist language examination in Bavaria on the website of the Bavarian State Chamber of Pharmacists.
Alinguas Sprachschule München
Deutschkurse Sommer Sprachkurse Deutsch Telc Sprachschule Jugendliche Englisch
Anonym
hat

4,93

von

5

Sternen
89

Bewertungen auf ProvenExpert.com