German Summer Courses for Children Munich 7-9 years
From the end of June, in July and August, children between ages 7 – 9 get together to learn German in Munich. This is very exciting for the children as they learn with pictures and games, go on excursions together and meet children from many other countries who are also learning German in their home countries.
Some children are also prepared in our institute for school attendance in Germany.
At a glance: German Summer Courses for Children 7 – 9
| | |
| --- | --- |
| Mon – Fri | 9.30 – 13.00 |
| Activities Tue + Thu | 13.30 – 17.00 |
| Extent | 20 UE* / Week |
| Levels | from A1 |
| Start | every Monday |
| Duration | 1 – 9 Weeks |
| Group | 4 – 14 Children |
| Price | up from 180,- / Week |
*teaching unit (45 Min.)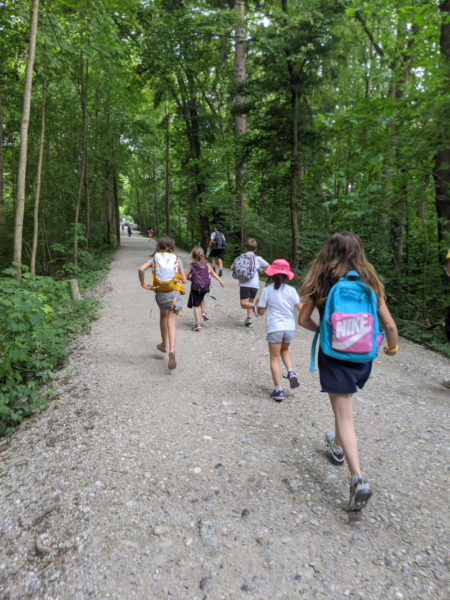 Learn German End of June – August for Children 7-9 years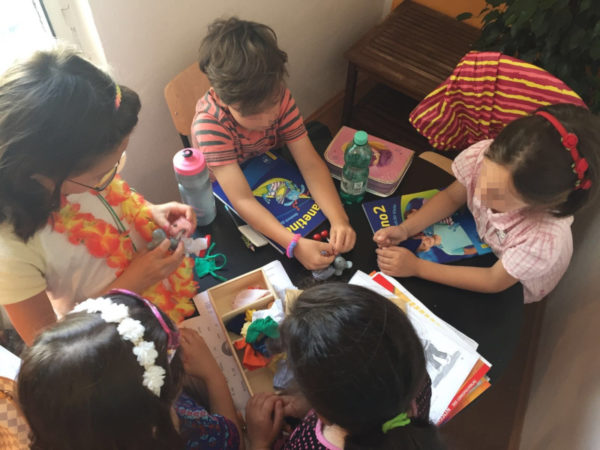 Without any pressure to perform, but with lots of fun and games, the children immerse themselves in a language world. We use creative and interactive methods in our German course that are suitable for the needs and learning behaviour of our youngest participants. This gives the children an intuitive feeling for the (otherwise so difficult) German language, just like for their mother tongue, and that after only a short time!
The German holiday course in Munich gets your children excited about German and motivates them for everyday school life. They learn quickly and have a sense of achievement, which is very important!
Children can learn pronunciation and grammar much faster and better than adults, and learning vocabulary is also easy when learning is fun!
But the holiday course in Munich doesn't just help children with their German lessons at school. When children come into contact with foreign languages early and intensively and learn them actively, they begin to think about the differences between the two languages, for example. This early knowledge and feeling for languages also helps the children later when they learn a foreign language.
German Courses for Children
motivation for languages
a break from everyday school life
developing a feeling for language
sense of achievement
new friends
German Summer Courses for Children 20 UE / Week Prices
| | | | | |
| --- | --- | --- | --- | --- |
| | 1 Wo | 2 Wo | 3 Wo | + 1 Wo |
| German Course | 230,- | 410,- | 590,- | 180,- |
| all-incl. o.U.* | 290,- | 530,- | 770,- | 240,- |
one teaching unit (UE) lasts 45 minutes; all prices in €
*all-inclusive without accommodation: included are all books, trips and entrance tickets, but no accommodation and no tickets for public transport to school
For children under the age of 14 we do not offer accommodation. If you come with the whole family you can look for accommodation in the following areas: Schwabing, Schwabing-West, Marxvorstadt, Milbertshofen, Neuhausen, Feldmoching, Lehel or Bogenhausen.
This is what a week of German summer courses in Munich looks like, for example:
| | | | | |
| --- | --- | --- | --- | --- |
| Mo | Tu | Wed | Thu | Fri |
| Lesson | Lesson | Lesson | Lesson | Lesson |
| – | Allianz Arena | – | Boating in the English garden | – |
Classmates and Teachers
The teachers of the children's German courses are pedagogically experienced, trained for German as a foreign language and speak German as their mother tongue or are bilingual.
In the German course, students from all nations learn together. The students benefit from the international staffing, because on the one hand, speaking German is unavoidable as a result, and on the other hand, the children can exchange information about their mother tongues and their home countries. In intercultural contact, the children finally understand what you really gain by learning foreign languages.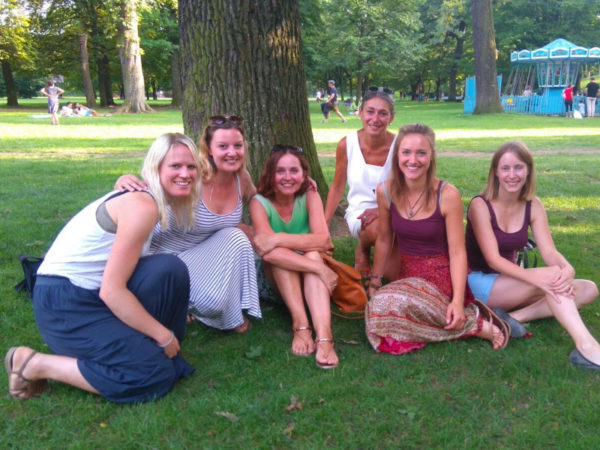 "But I'm on holiday…"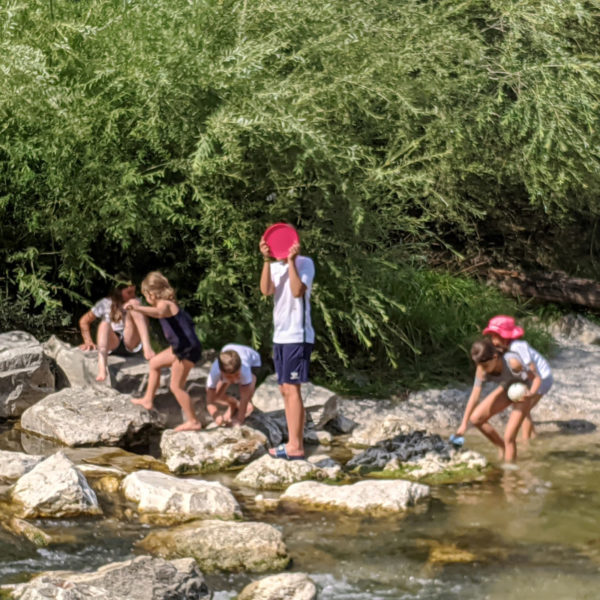 On two afternoons a week, we organise an age-appropriate leisure programme in Munich for the German course. The children have picnics with us in the park, play sports or visit interactive museums such as the German Museum with the teachers and other carers. Ideal holidays, right?
Sometimes parents are worried about sending their children to school even during the holidays. We can reassure you. Learning a language is fun for children. The children are in interesting surroundings, make new friends and often develop an enthusiasm where they no longer even notice that they are actually in a "school".
Dates and Courses
The German course takes place in June, July and August – it usually starts on the last Monday in June. You can book the German course for your children between one and nine weeks. Classes are from Monday to Friday between 9:30 and 13:00 (20 lessons of 45 minutes).
The courses are suitable for beginners and advanced learners alike and there are of course different groups. The groups are often small; usually six to eight children learn together, with a maximum of 14 participants. This way, we guarantee intensive care for your child as well as the important exchange between the children.
We would love to answer any questions personally!
There is always time for that. Just contact us or drop by!
Your Alinguas language school Munich
Alinguas Sprachschule München
hat

4,77

von

5

Sternen
99

Bewertungen auf ProvenExpert.com